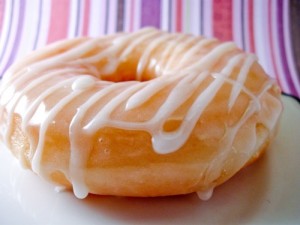 This year National Doughnut Day will fall on Friday, June 3rd. National Doughnut Day is always held on the first Friday in June in honor of the Salvation Army "Lassies" of World War I.
During WWI, Salvation Army "Lassies" were sent to the front lines of Europe. These brave volunteers made home cooked meals, i.e. doughnuts, and provided a morale boost to the troops. The original Salvation Army Doughnut was first served by the Salvation Army in 1917. Salvation Army lassies were the only women outside of military personnel allowed to visit the front lines. Lt. Colonel Helen Purviance is considered the Salvation Army's "first doughnut girl".
The American infantrymen were commonly called doughboys, and we're talking about doughnuts so you might wonder if one got their name from the other. In my research, while I found some discussion about a connection, I found no definitive answer as to a connection between doughnut and doughboy.  Both had been to referred to by their respective nicknames for years before World War I.
In any case, the National Doughnut Day "holiday" was established in Chicago in 1938 by the Chicago Salvation Army as both a much needed fundraiser during the Great Depression and to honor the many volunteers, those Lassies,  who cooked food, including doughnuts for thousands of soldiers overseas. Do tell.
On National Doughnut Day, look to see if your local doughnut shop, or other organizations, are offering free donuts to solicit donations for the Salvation Army or for another needy cause. If you find them, please be generous.
In Mill Creek,  Frost-Doughnuts Evolved is having a doughnut eating contest. How many do you think you can eat in 2 minutes? The contest will be held from 4-6 PM [ I suggest you skip breakfast & lunch and just forget about dinner! ] and there will be winners in three age categories.  http://www.frostology.com/
Rival doughnut shop, Top Pot – across the parking lot- inside the University Bookstore, will also honor National Doughnut Day. They are partnering with Northwest Harvest to spread doughnut-y cheer. Representatives from Northwest Harvest will be at all of the Top Pot Cafes including the one in Mill Creek from 6AM until Noon collecting donations of non-perishable food items. They will also have "tons" of fun giveaways at the cafe throughout the day.  http://www.toppotdoughnuts.com/