Members of the City of Mill Creek Art and Beautification Board announced their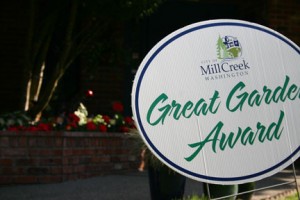 choices for the 2011 Great Garden Award. Fourteen residents of Mill Creek, representing 10 different divisions, were awarded for all the time and hard work they've put into their landscaping to create beauty on their property for all of us to behold.
Each winner was honored with a yard sign placed in their yard, and it will remain through the month of August. The City Council will then recognize these winners at the regular council meeting scheduled for Tuesday, September 6th 2011.
The following is a list of the winning gardeners:
Darby Hackett – 1522 142nd Place SE – Douglas Fir
Joe Dasilva – 15808 25th Drive SE – Heatherstone
Teresa Adams – 2304 141st Place SE – Vine Maple
Alfredo Arreola – 15920 33rd Avenue SE – The Parks
Larry Powell – 1524 164th Place SE – Winslow
Timothy & Michelle Davenport – 14515 38th Drive SE – Webster's Pond
Jim & Yvonne Cupp – 14613 12th Avenue SE – The Vineyards
Steve Farvo – 1725 164th Street SE – Winslow
Steven & Kristi Zevenbergen – 2628 143rd Place SE – Huckleberry
Robert Gay – 1721 Sunrose Place – Sunrose
Allen & Bundie Olsen – 16304 21st Drive SE – Wildflower
Terence & Rosario Carroll – 14610 32nd Drive SE – Brighton
Michael & Mary Senko – 1501 151st Place SE – Juniper
Russ Francisco – 15019 32nd Drive SE – Red Cedar
I had the chance to talk to Darby Hackett, the winning gardener from Douglas Fir, about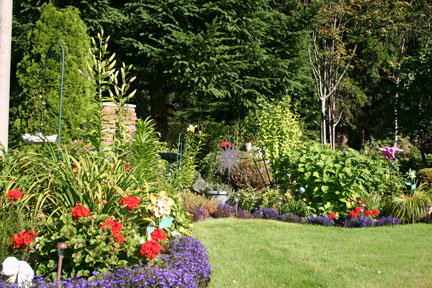 her garden and the award. She said she was very surprised. "I didn't think I would win anything like that. I am out there just about everyday. I do it for myself; I love working in the garden." I asked if there was any particular inspiration or goal for her garden. Darby said, "If I am in the [garden] store and I just see something I like, that's what I'll add. I have a lot of geraniums and lobelia. If there's some space available, I'll plant something there. It is just what I see and what I like." "I'm out in the garden every day weeding, fighting off the moles and a certain little rabbit that likes to nibble on the flowers. If I try to shoo him off he just looks at me, like what are YOU doing here?" Any other comments? "I was just so honored. There were only 14 people out of all the people in Mill Creek! It is a real honor."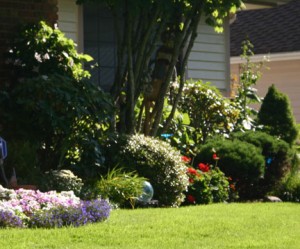 Darby, congratulations to you and all the other Mill Creek resident gardeners who were honored in this way. So many of us truly appreciate all the time and the tremendous amount of effort you put in to make your gardens beautiful and our city such a great place to call home.