The 27th Annual Run of the Mill 5K is Saturday July 7th this year. The Run of the Mill is Mill Creek's premier community charity event presented by Mill Creek's premier mortgage lender, Columbia Funding Mortgage.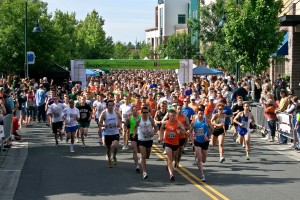 Columbia Funding is owned and operated by Steve Knox. Steve stepped in to organize and become the presenting sponsor of The Run of the Mill in 2006. After soliciting support from the running community, receiving help from amazing volunteers & amassing a growing list of community sponsors, "The Run" was revitalized as a charitable event. Do tell.
Steve's wife, Linda is an integral part, volunteering as the Development Director for the Run of the Mill to honor her father, whom she lost to cancer in 1998, and to celebrate & support her brother, Jim & her sister, Shirley — both cancer survivors.
Since the run became a charity event in 2006, over $165,000 has been donated to local charities, and the goal this year is to top $200,000 in charitable donations.
Some of the local & diverse charities supported are: Providence General Foundation-the Linda Baltzell Cancer Patient Assistance Fund, Jackson High School & Archbishop Murphy High School Track & Cross Country Booster Clubs, St. Vincent de Paul -Bothell/Mill Creek Conference, just to name a few.
Register today!  Packet pick-up begins at 7:30AM on Raceday with the race going off at 9:30AM. For complete information on everything you need to know re: registration, costs, deadlines, maps, prizes, what's included, etc., visit: www.mcrunofthemill.com
Thank you to the many local sponsors of the Run of the Mill 5K. Please support them:
Columbia Funding Mortgage, Mill Creek Family Practice, Waste Management-NW, Central Market, Columbia Athletic Clubs, Mill Creek Running, Sayenko Design, Peoples Bank, La Palmera, Mill Creek Foot and Ankle clinic, Advocare, Swedish-Mill Creek, Yoli, Mill Creek town Center, The ABS Coffee Company, the Y-YMCA, and Inner Athlete.
Credits: Information & above Photo from Columbia Funding Mortgage & Run of the Mill 5k Road Race.