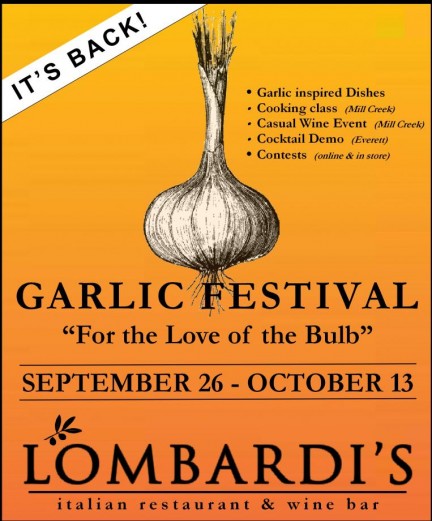 Lombardi's Garlic Fest is back by popular demand after a five year hiatus with cooking classes, wine tastings, contest & locally produced products.  Ahhh, two weeks of garlic joy for bulb connoisseurs & Garlic novices alike. 
From Sept. 27th through Oct. 12th, local garlic lovers can rejoice in the bulb during the two-week Garlic Festival at Lombardi's Italian Restaurants in Mill Creek & Everett.
Diners will experience a garlic-in-every-course menu including 40-clove roasted chicken & desserts such as a cappuccino brownie layered with garlic peanut sauce. To top it all off they can kick back a garlic infused martini or take a break from the bulb & pair their meal with a select wine from the Piedmont region of Italy, known for complementing the rich and herbaceous taste of the stinking rose. Do tell.
Garlic for some of the festival menu to be provided by Arlington, WA farm – Garden Treasures. The wine bar will provide tastings over the duration of the festival highlighting wines from Piedmont wineries: Damilano, Franco Molino, Beni di Barasiolo & Cantine Vopi.
What: Lombardi's Garlic Fest: A gourmet garlic celebration featuring all things culinary with a garlic menu, wine tastings, cooking classes & contests
When: September 27 through October 12   for  Lunch,  Dinner & Sunday Brunch
Where: Lombardi's Italian Restaurants:
Mill Creek – 19409 Bothell-Everett Hwy, Bothell, WA, 98102 

Everett at the Marina – 1620 W Marine View Dr., Everett, WA, 98102
Visit:  lombardisitalian.com for more information about Lombardi's restaurants & the much missed, long awaited Garlic Fest.
Information & Garlic Fest Graphic provided by Lombardi's Italian Restaurants.