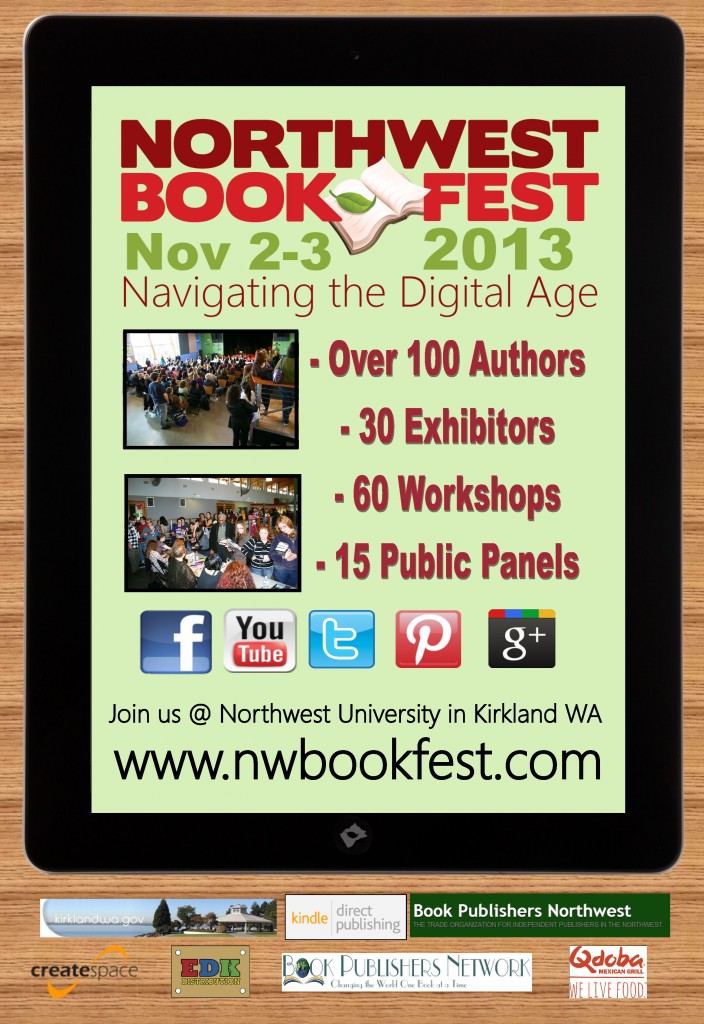 While it may be out of the city limits of Mill Creek, I thought many Mill Creekers would  like to hear about a great event coming up on  November 2nd & 3rd  between 8am-6pm.  Authors from around the Puget Sound region will be converging on Kirkland for the 2013 NWBookfest event: Navigating the Digital Age. This year's Bookfest will be taking over the state -of -the art Health and Sciences facility on the beautiful Northwest University campus. The Northwest Bookfest is a Bothell non-profit that supports local authors with their authoring, publishing & marketing of their own books. Do Tell.
If you're a serious writer pursuing a publishing career, or a published author—you might have noticed that the world of publishing as we know it has undergone some serious changes. The advent of the digital reader — i.e. Kindle, Nook, Tablets & Cell Phones — has changed the way people read books. The refrain, "no one will ever read books on a computer" has changed to "how do we get our books to readers who read on devices?" In addition to being able to rub shoulders & network with New York Times Best Selling  Authors, you will be able to attend your choice of 60 high-impact workshops, connect with over 40 exhibitors & attend 15 public panels with some of the local publishing, marketing, and writing influencers.
After the Saturday sessions, enjoy some extra-curricular activities with the NWBookfest Wine and Words events hosted at Park Place Books and  Milagro Restaurant! Come join the fun!
Tickets for the all weekend education & networking event are only $99! There limited number of seats still available, so get your tickets ASAP at www.NWBookfest.com. If you happen to be a Pacific Northwest Writers Association member, you get a $20 discount on the event!
Do Tell Mill Creek thanks NWBookfest for the info, links & poster graphic featured above.