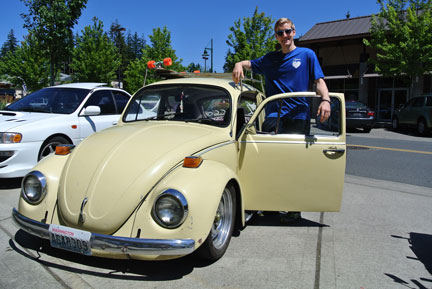 This is Daniel, who lives & works near Mill Creek. He is the proud owner of a '71 VW bug.  I caught up with him as he was returning to his car on Main Street.
Daniel's Story:
"I've wanted a bug since I was four. I used to watch the old 'Herbie the love bug' movies over and over again. My favorite scene was/is when Herbie calls all of the other bugs for help, and the old dented and rusted ones come to life.
I drove around our house on my little plastic bug with plastic wheels that I pushed around with my feet 'Flintstones Style'. I cracked it by monster trucking in the hallway.
When I moved back home after attending Berklee College of Music in Boston my parents told me, "If you get a job, we'll get you a car." A few weeks later I found this beautiful sun faded machine on Craigslist.com. Complete with sound system, leopard print, and a roof rack for my long board."  Do tell.
It's name is Moby Dick.
_________________________________________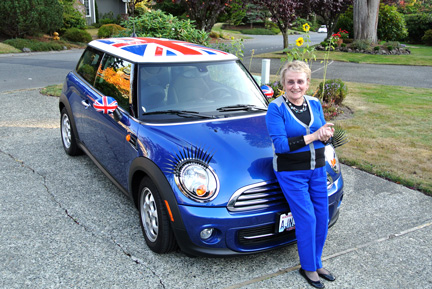 Lynne, a long time Mill Creek resident, recently acquired her dream car — a new little 2012 Mini Cooper in Lightning Blue customized with the Union Jack on the roof & side mirrors. Eyelashes adorn the headlights. A native of Manchester, England Lynne has wanted a Mini for years harkening back to the days of the original Mini, a British icon in the 60's & 70's. Alas, it was never the right time — until now! She says the car is really "her", people come & want to talk with her about it, and she is just having a lot of fun with it. She even competed in a Mini Cooper Club rally, recently. Does she have a name for her "baby" yet? No, but she's thinking about it. Do tell.
_____________________________________
If you or someone you know who lives and/or works in the MillCreek area would like to be featured with your/their "ride" in a future story, contact Do Tell Mill Creek at: Administrator